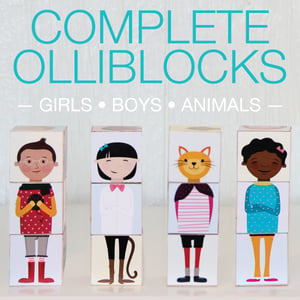 $

12.00
Hey smart shopper. Why buy one set when you can have it all? Buy all three sets of Olliblocks and save! Download the PDFs and start crafting!
NOTE: Almost immediately after purchase you will receive an email with a download link. If you do not see this email, check your spam folder. If you still don't see it, contact us and let us know!
PDFs include:
- instructions
- 2" x 2" artwork
- 1.5" x 1.5" artwork
- artwork for animals, boys, and girls
Additional materials needed for this project:
- 1.5" or 2" wooden blocks (optional)
- full sheet sticker paper (or regular paper)
- scissors or xacto blade + cutting mat
- modge podge + acrylic sealer (optional)
To see more about this project and for help finding materials, visit our blog.